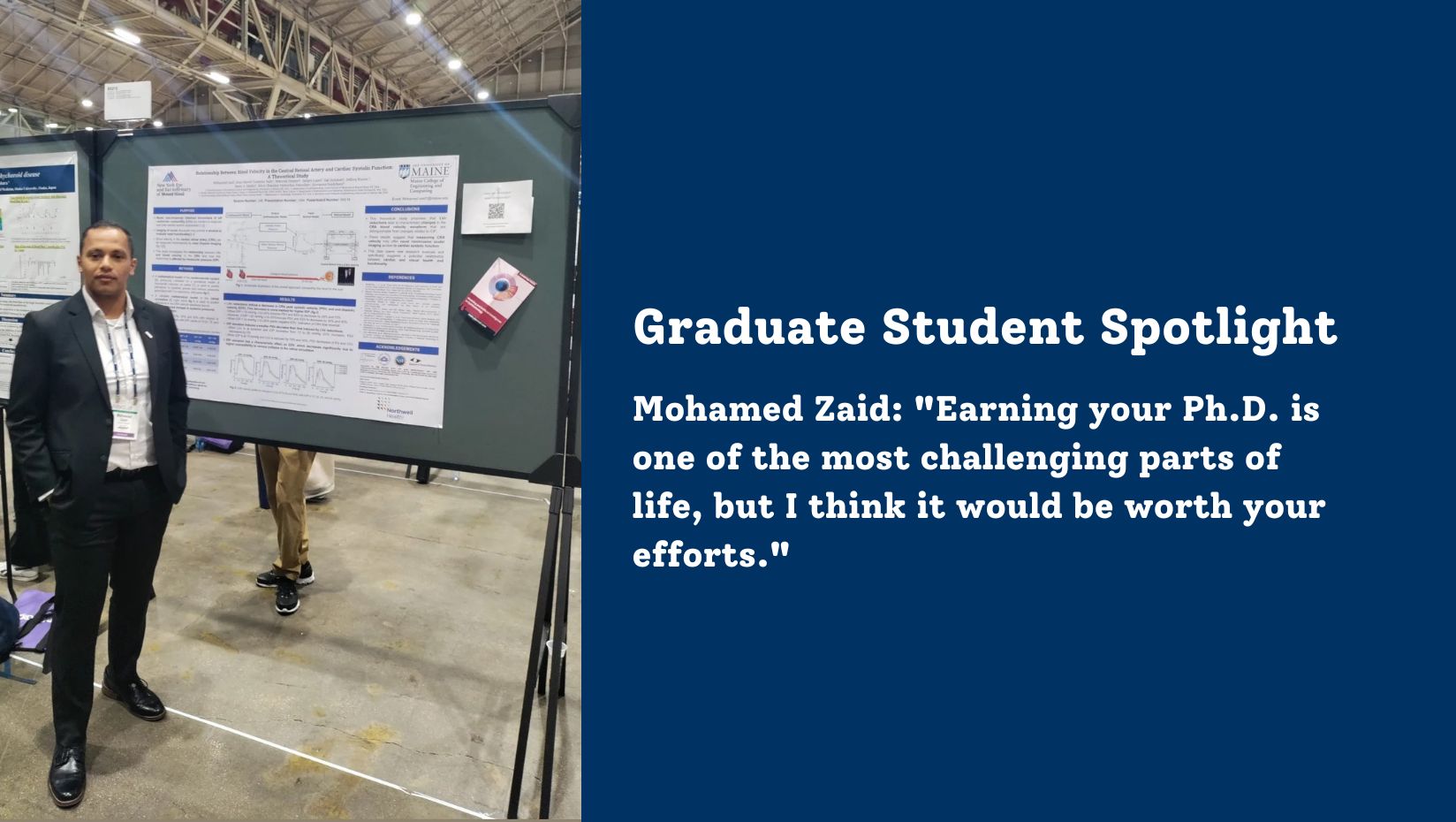 Graduate Student Spotlight — Mohamed Zaid
Welcome to Graduate Student Spotlight Interviews! Today we encourage you to meet Mohamed Zaid, Ph.D. student, Biomedical Engineering. His way to Ph.D. path, challenges being an international student, importance of research project and personal achievement — read further in our interview with Mohamed. 
Your name, major, concentration and year of studying?
Hi, I am Mohamed Zaid, and I am a Ph.D. student in Biomedical Engineering. Currently I am in my 1st year at The University of Maine but 3rd year overall, doing my Ph.D. 
What brought you to the GSBSE?
I transferred to UMaine this spring from the University of Missouri. My first encounter with GSBSE was when I decided with my advisor to move to the University of Maine, so I was looking for the best fit to continue my Ph.D. with possibility that GSBSE Program has with biomedical engineering and that was the most appropriate  academic pathway for me. 
Where did you get your undergraduate degree?
I did my undergraduate degree in Biomedical Engineering in Italy at the Polytechnic University of Milan in Biomedical Engineering with the Master's degree in Biomedical Engineering being the one with focus on electronic technologies with Dr. Giovanna Guidoboni. 
How did your research interest evolve and what is the current project you are working on?
My first research started when doing my first master's degree when I was living in the Netherlands, I worked at the Erasmus Medical Hospital on the developing of the non-invasive tools for monitoring insufflation pressure when you have minimally invasive surgery, then I got interested in developing a non-invasive device that can be useful for doctors to make decisions that would not be based on personal evaluation of the doctor. After that when I started my Ph.D. I worked on developing non-invasive devices to monitor cardiovascular functions, which are still non-invasive technologies with ability to monitor changes such as hard failure. Our work involves also the development of mathematical models of the physiological system to use as virtual laboratories that can simulate and predict scenarios that would be more challenging to reproduce in actual laboratories. We are using this approach in all the projects I'm working on. In addition to the cardiovascular model, we are currently working on developing a model that can simulate the control function of the lower urinary tract. The third  project I'm working on is to use the eye as a window on the heart. In specific, we are found that changes in the heart function might induce changes in the hemodynamics of the eye. So the idea is using changes in the hemodynamics and how the ocular blood changes relates, how it would affect hymodynamic. 
Why is it important for science, explain in simple words?
The impact of the research I'm doing can provide doctors with noninvasive devices that can help to monitor changes in patient's health conditions  to provide early diagnosis and avoid the worsening of the disease. 
Biggest insight or life lesson you learned so far during your Ph.D. studies?
The biggest insight is that everything's a challenge, and you keep trying until you find that idea that is working. 
Describe your usual working day as a Ph.D. student?
Every day I make a list of goals that I need to accomplish over the day. Most of my current work is computational, which means working on the computer by using programming languages. I also spend a good part of my time writing papers on my research. This personally is the most difficult part. I also help with mentoring an undergraduate student in my lab. Almost every day I have meetings with our team and collaborators from University of Missouri, Miami, France, Washington state and Northeastern. Personally the most exciting and fun part is when I go to conferences to present my research work. It happens 2/3 times a year.
What piece of advice would you give to those who are going to apply for Ph.D. in BMS or BME?
My personal advice is to be committed to it. It is one of the most challenging parts of life but I think it would be worth your efforts. Instead of repetition, have fun, be eager to learn and improve yourself, and be passionate about your research. It is not getting paid a lot but it is getting rewarded. 
Let's dream: In 5 years you see yourself in…
Hopefully it will be some kind of Academia role and working on amazing projects, getting grants and keep doing what I am doing but as a Professor.
What challenges do you face in the US being an international student?
Everything was a challenge because everything was different than in Europe. I had to move to the US during COVID. I had to learn a lot by myself about how the American system works and I had to do everything connected to social security. How much the US is different from what we have in Europe, I am still facing some types of challenges as international students and trying to learn more about American life and culture. 
How do you spend your spare time outside of the lab?
I spend some of my free time working with the program called Center to Stream Healthcare in Place (C2SHIP) in which I'm the founder and president of the student and trainee chapter. The goal of this program is to develop the technologies that can bring health care at home. For example, to decentralize the hospital as part of the healthcare  system. I have been following some useful seminars and meetings on the cutting-edge technologies on which other research groups are working on across the US. In the rest of my spare time I like to play soccer, work out and hang out with my friends. I still try to keep a social life outside the lab.
How important is the full GSBSE community to your overall success?
There is definitely more time to create a community, we have monthly meetings. I am still trying to learn the full potential that the GSBSE community can provide. Thankfully to Jenn (GSBSE Program Assistant and Dr. Mason (GSBSE Associate Director), my transition from the University of Missouri to UMaine was very easy.
What are the reasons why the GSBSE Program is a good fit for you?
My whole career was around Biomedical engineering and GSBSE for what it offers in UMaine it is the best fit. Here it is more focused on the Biological side rather than electronic, but I still think that the GSBSE was the  best fit for me at the University of Maine. 
Any personal achievements you could share with us?
I achieved awards and honors on academic, national, and international levels. At the University of Missouri, I won 1st place in the 38th Annual Creative and Research Activities Forum (RCAF) 2022 where I presented my work published in Frontiers in Medical Technology. Within the US, I was selected as one of the seventeen graduate students to present my work at the NSF – NIH Smart Health Workshop 2022. At the international level, I was selected as a finalist at the Student Paper Competition for 43rd Annual International IEEE Conference of Engineering in Medicine and Biology (EMBC) 2021. Moreover, at the annual C2SHIP meeting in 2022, I presented a project on developing a smart pillow for monitoring of cardiovascular health and got the second highest score and fundings. 
Thanks for taking the time to talk to us Mohamed and letting us share your story!