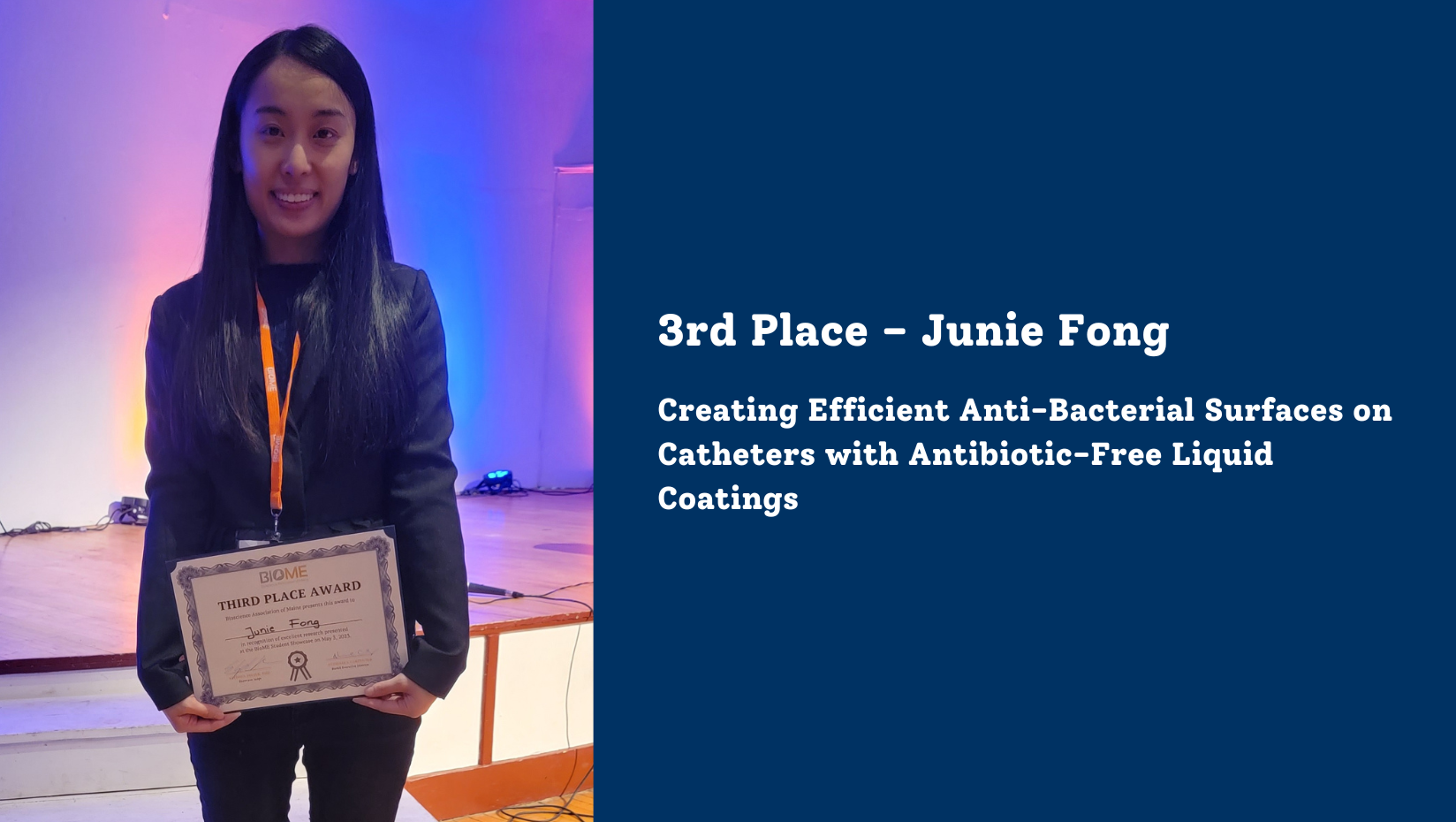 GSBSE Ph.D. Student, Junie Fong, takes 3rd place at recent Student Showcase
On May 3, 2023, BioME organized the fifth annual BioME Student Showcase at Bangor Arts Exchange in Bangor, ME.
This
provided students with an opportunity to share their passion for life science research. 
We are happy to announce that 3rd Place was taken by GSBSE Ph.D. student, Junie Fong, with her project "Creating Efficient Anti-Bacterial Surfaces on Catheters with Antibiotic-Free Liquid Coatings".  
In explanation of the importance of her project, Junie summarizes  that as our population ages, the use of urinary catheters is expected to increase, leading to a higher incidence of catheter-associated urinary tract infections (CAUTI). To combat this issue without relying on antibiotics, Junie's project focuses on developing an antifouling surface for urinary catheter materials through the technique of liquid infusion.
"As I prepare to present my project, I feel a mix of nervousness and excitement. This is my first time delivering a pitch, and English is not my native language. However, I am thrilled to have the opportunity to share this fascinating scientific idea with the audience and promote the progress of my project. The fact that my work has garnered attention fills me with happiness, as it has the potential to significantly improve the well-being of many individuals" — Junie states.
She continues, "Throughout this journey, I have received immense support from my supervisor, Dr. Caitlin Howell, and my fellow lab members. Their unwavering support has created a safe and encouraging environment for me to express myself. Their presence during my pitch provided me with a sense of confidence, knowing that I was not alone. Looking back, I feel a sense of accomplishment. Overcoming my initial nervousness was a personal triumph. Moreover, this experience has equipped me with valuable knowledge and skills in delivering precise and impactful presentations that resonate with the audience. This ability to effectively communicate my project's goals and outcomes is a crucial skill set that I have gained throughout this process".