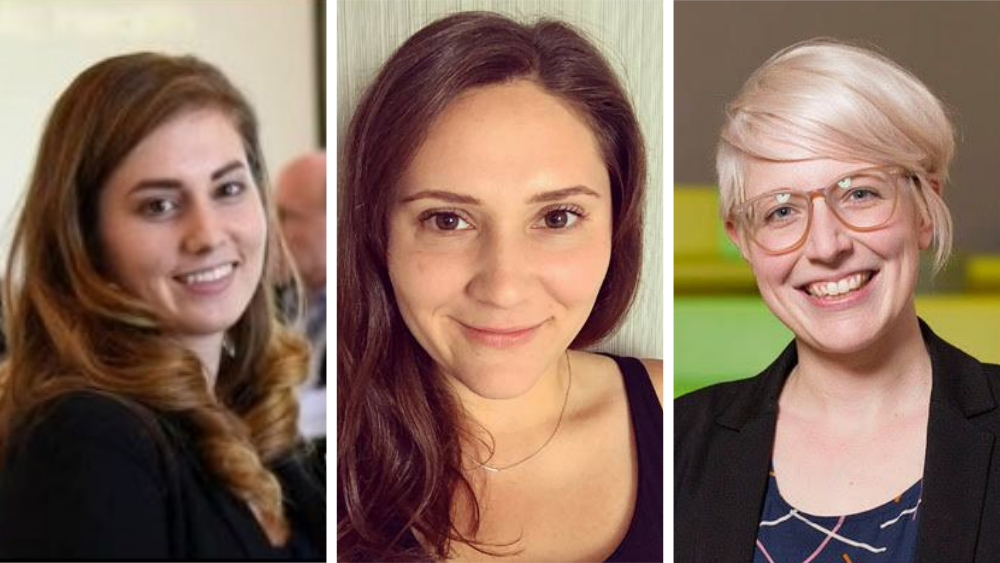 Three MSLS researchers expected to receive Ph.D.s
Three Maine-Syracuse Longitudinal Study (MSLS) investigators — Rachel Torres, Olivia Bogucki and Alexandra Wade — are expected to be awarded Ph.D.s at the end of this summer.
Torres, who received a bachelor's degree in psychology with a double major in anthropology, summa cum laude, in 2015, trained in cardiovascular epidemiology and neuropsychology while attending UMaine. She will receive a Ph.D. in applied physiology from the University of Delaware. The primary goal of her dissertation was to develop a risk factor scale to predict cognitive impairment using data from MSLS. Her current work includes studies using the tools of physiology, cardiovascular epidemiology and neuropsychology. Two of her widely cited papers dealt with the relation between orthostatic hypertension and cognitive functioning, and between kidney disease and cognitive functioning.
Bogucki will be awarded a Ph.D. in psychology with a concentration in clinical psychology from UMaine. She received a bachelor's degrees (with honors) in psychology and in human development and family studies, summa cum laude, from the University of Connecticut in 2012. During graduate school, her research focused on the cognitive, affective and physiological processes that contribute to the etiology and maintenance of major depressive disorder. Her dissertation aimed to clarify the nature of cognitive and mood reactivity, and characterize the nature of cardiovascular reactivity to sadness in remitted depression. In addition, she was an active student investigator for MSLS. She has co-written MSLS articles and book chapters examining the relationship between dairy food intake and cardiometabolic health, depressive symptoms and cardiovascular disease, and obesity and cognitive functioning. She has accepted a two-year postdoctoral fellowship in clinical health psychology at the Mayo Clinic in Rochester, Minnesota, with a major emphasis in integrated behavioral health. Among other goals, she plans to conduct research on the bidirectional relationship between depression and cardiovascular disease, and prevention for these diseases in conditions in primary and specialty care settings, such as cardiac rehabilitation.
Alexandra Wade has a bachelor's degree in psychology and recently completed requirements for a Ph.D, in health sciences at the University of South Australia. Wade has published work focusing on associations between nutrition, cardiovascular health and cognitive function. Her dissertation included two controlled clinical trials, as well as an epidemiological investigation, of the benefits of the Mediterranean diet in non-Mediterranean populations. In October 2017, Wade spent a month at UMaine as an international visiting scholar. Upon returning to the University of South Australia, she continued her collaborations with UMaine professors Merrill Elias and Michael Robbins on a tutorial basis. Her plans are to conduct translational research that will further explore and define the value of the Mediterranean diet, with respect to better health and cognitive functioning in elderly individuals.
All three will continue as MSLS investigators. MSLS is affiliated with the Department of Psychology, UMaine, and the Graduate School of Biomedical Science and Engineering.
Information about MSLS is online or by contacting Elias, mfelias@maine.edu.